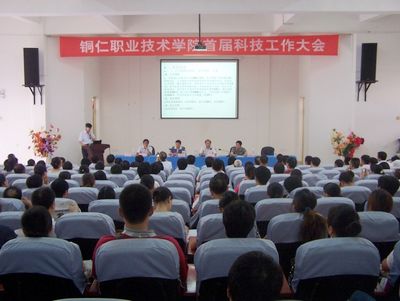 On the afternoon of July 13, the first sci-tech work meeting of TRPT solemnly held in the auditorium.
At the meeting, the achievements and the experience obtained in the sci-tech work since the establishment of our college were comprehensively summed up, and the advanced units and individuals who have made great contributions in the sci-tech work were commended.
Meanwhile, the new situation that the sci-tech work faced up was thoroughly analyzed, and the strategic ideas and moves for further development were put forward.
The meeting was presided over by Yang Zhengshui, vice-president of TRPT. The leaders and teaching staff present at the meeting were: Prof. Hou Changlin, president of TRPT, Qin Litao, Deputy Secretary of the Party Committee, Fan Qianjing, Vice-president of TRPT, carders, all teaching staff, and supporting staff.
At the end of the national anthem, Prof. Yu Jiansheng, division chief at academic research department of TRPT, reviewed the sci-tech work of TRPT, summed up the achievements, and analyzed the problems and shortcomings existing in the work.
Edited by: Liao Xiaoqiong
Source: TRPT News (Chinese)