On the afternoon of July 6, the Symposium on Higher Vocational Education held in Longquanshengjing, an international hotel in Tongren.
At the symposium, foreign experts introduced Holland and the advanced ideas on vocational education in their country, and illustrated the theme thoroughly. The atmosphere of the conference was lively. The confrontation and collision of their ideas brought a chain of sparks of wisdom.
The symposium was divided into four groups. The themes were: Integrating Research and Teaching, Sustainable Education for Sustainable Jobs: the Role of Leadership and Professional Staff Development, Learning Environment and the Motivation: an Exploration of a Key to the CBE Curriculum Construction, Competency Based Curriculum and the Relationship with the Professional Field.The groups were hosted by Prof Joseph Kessels, Ms. Ria Jacobi, Ms. Wang Bingyan, Mr. Bert Hooijer, Ms. Marlies Bedeker, Mr. Henk Frencken and Ms. Haske vanVlokhoven.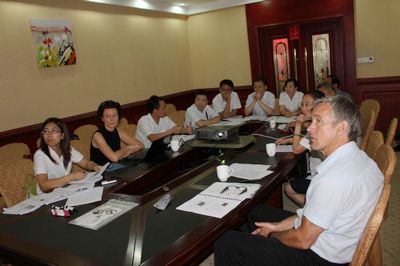 Through the exchanges, the discussion was furthered, a consensus was reached, and the participants could exchange their ideas, share their resources, and seek common development. Therefore, it was a fruitful meeting.
Edited by: Liao Xiaoqiong
Source: TRPT News (Chinese)